This styled bridal boudoir session, shot by Nathan Larimer, was photographed in the mountains above Lake Tahoe, California. For this shoot, Nathan wanted to "take a bride and place her in a scenic location where she could focus on expressing her sexuality and beauty." We think it's perfect for the change in seasons and love the natural element. Read more about Nathan's shoot below.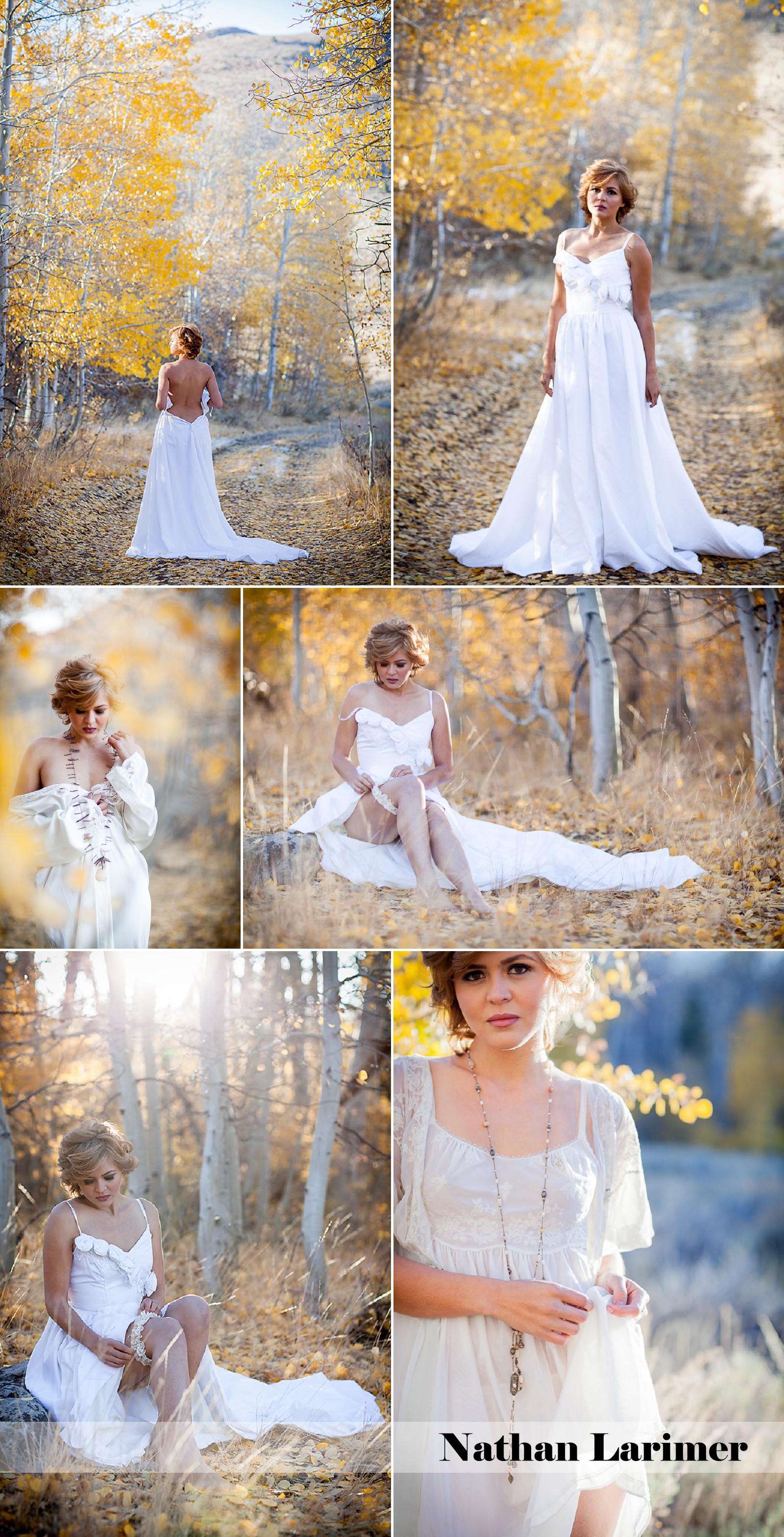 Model: Kaila Uli
Hair/Makeup Artist: Hair styled by Colette Burrows, makeup done by Kat Louis, and wardrobe styled by Jessica Thompson. The vintage wedding gown, antique lingerie, and accessories were provided by Recaptured Design and the freshwater pearl jewelry was provided by Lucia Antonelli.
What was your overall vision for the shoot, or – how did you decide to shoot this concept?
The original concept for the shoot was a "getting ready" scene with a bride. I specialize in weddings and most of my brides want pictures getting ready for their wedding, putting on makeup, and of course putting on their gown. I've always felt that moment always has such potential to be very intimate, emotional, and even sexy. Sometimes those shots are amazing, but often they fall short because of the anxiety and clutter that often comes from preparing for such a huge event. With this shoot I wanted to take a bride and place her in a scenic location where she can focus on expressing her sexuality and beauty.
How would you describe your typical style, was this a departure or were you playing into your typical inspiration?
This was the first time that I ever did a styled boudoir shoot. In the past, I have only done real boudoir. I felt I wanted to do this particular shoot to express my vision the way I wanted to instead of the way a client wants me to. So in one way, it was a departure because my inspiration came from my own experiences as opposed to the same 10 pictures my clients always share with me on Pinterest. However, this shoot still embodies a soft, sophisticated, sensual feel like much of my work.
If you could choose the most important pieces of the styling or set in your images that you would say set the tone for the whole shoot what would they be?
The eyes. Eyes always set the tone in all of my shoots. My boudoir photography always finds the women styled sexy, but the most important thing is that I am still photographing them for who they are. Therefore, I rely on her eyes to express emotion as much or more than her wardrobe. In other words, we style the shoot for her body, but I shoot for her eyes.
Photographers always know that nothing goes to plan in a editorial shoot where there are so many elements that have to come together, overcoming them and still getting killer images is what makes us pro. 🙂 What challenges did you face?
This shoot was at about 8,000 feet on a mountain pass. I scouted this location the previous October and the weather was about 75-80 degrees and the Aspen leaves were at the height of their fall color. When we did the shoot on the same day a year later, it had snowed the night before. In some of the pictures you can even see a few patches of the white stuff in the background. The temperature at the beginning of the shoot was about 60 degrees but got into the low 50's with a breeze by the end. The models had to do a few jumping-jacks.
Describe the setting of the shoot/location, and how it inspired you:
Many of my clients come to an initial consult thinking that they want to shoot in a hotel room, bedroom, or studio. But we rarely do once I show them pictures like these. I found this place while working on a personal project documenting carvings by shepherds on Aspen trees. Because of the many personal fine art projects I work on, I am able to find locations that my clients would never know existed. Scenic boudoir needs to be something more than a random field at sunset and this place has it.
Just for fun: Did you create a mood board? If so, would you be willing to send it/share it with us?
I don't have a mood board for this shoot, but here's a link to a totally different non-boudoir project I shot in the same location. Check it out. It's fun to see the contrast in styles. http://nathanlarimer.com/work-in-progress-arborglyphs/
Would you want to recreate this shoot for your clients? Or was this a one-of-a-kind original?
I would love to recreate this for clients! It would be perfect for a bride and a couple friends looking for an adventure!
If you're looking for a boudoir photographer in northern California, contact Nathan Larimer. To find a boudoir photographer in your area, check out Boudoir International. Thank you, Nathan, for sharing your photographs and your story!