Real Boudoir
on February 19th, 2014
These beautiful images are of real boudoir client, Dawn, photographed by Tooney White at Boudoir le Blanc. Dawn's favorite moment was her "first laugh on set." In her words, "as soon as I started smiling and laughing, I felt myself relax, and Tooney made that easy. I felt like I was back in a quiet space with someone I loved."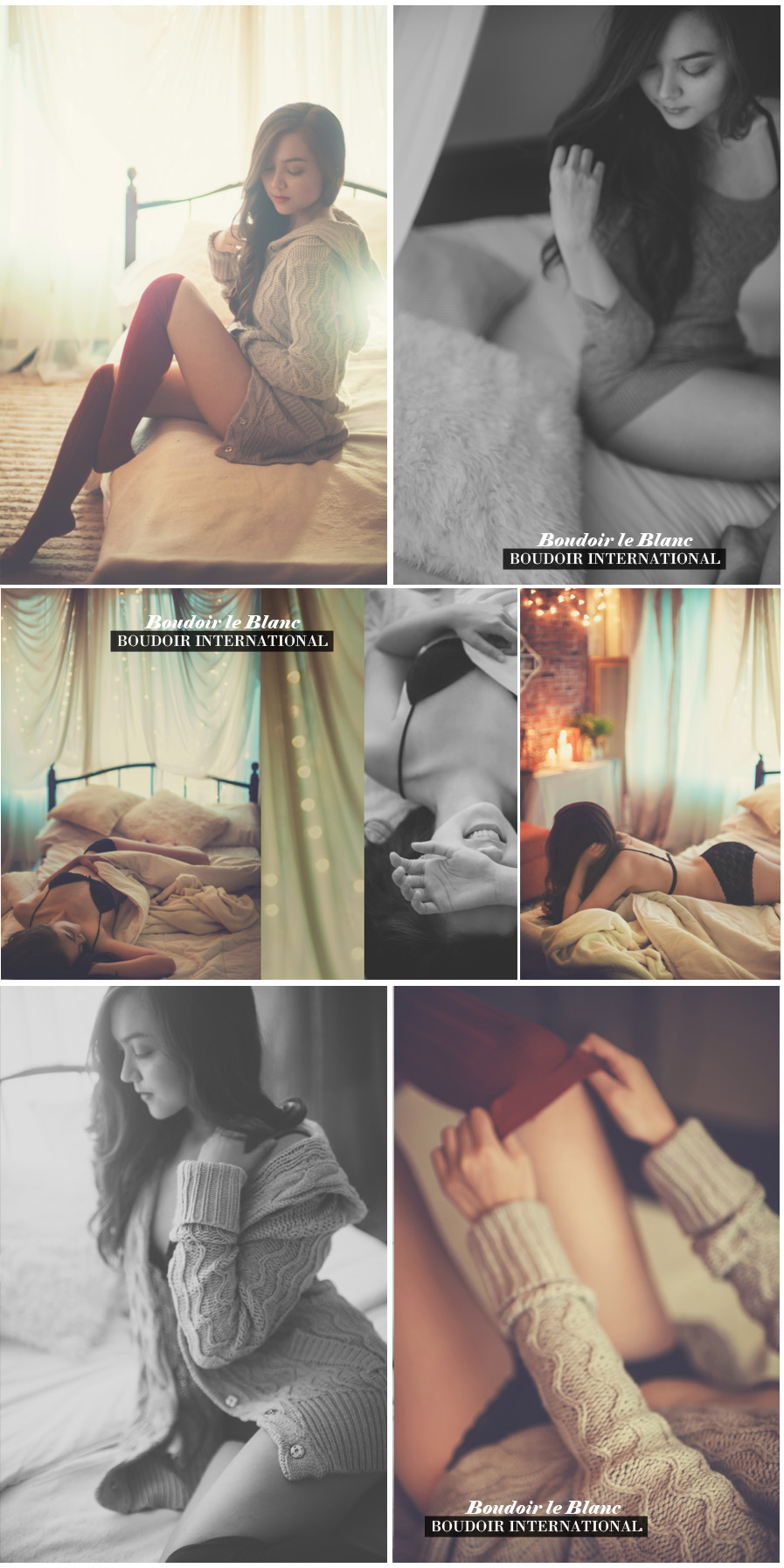 Why did you want to do a boudoir shoot?
It had never crossed my mind to do a boudoir shoot before I saw the Boudoir Le Blanc page. After checking out some of their albums, I began to fall in love with the idea. There was something so poetic about the way these women were shot, and how sexy they looked in their simplicity. Previously I'd worked in a publishing company where my colleagues spent days photo-shopping women into "perfection", and it made me cringe sometimes. These Boudoir ladies looked so relaxed and effortlessly lovely, I couldn't help but smile.
I'm pretty self-conscious, and a few months ago I didn't think I could pull off something like this. Slowly though, the idea grew on me. I knew I wanted the shoot to be true to my personality. I didn't want to have to try too hard and end up looking like someone I'm not. I'm a really simple girl,quiet and a little shy, but I'm also really playful. And then of course, I just love Christmas lights and cozy spaces. As much as I'd like to be a beach babe, I'm more of a cold weather girl who likes nestling into an armchair with a good book and a cup of hot chocolate. I wanted my shoot to capture that.

How did you choose your photographer?
Tooney and Heather are friends of mine, so I knew I'd feel comfortable doing this with them. And the fact that they're an all-girl team relieved me. Tina, who handles the in-house hair and makeup team, is phenomenal! I came in feeling nervous and frazzled, but they immediately worked their magic and made me feel gorgeous. They knew how help me relax, and trust was a huge factor.
I also chose Boudoir Le Blanc because I knew they'd take care of EVERYTHING. Most companies just offer photography services, but with these girls, I didn't have to worry about booking a makeup artist, stylist, or venue separately–it was all part of the package. I have a really hectic schedule, and coordinating shoots and events is part of my job, so the fact that they were taking care of all that really sealed the deal for me.
How did you feel as you were preparing for the shoot?
I was excited and nervous! We started collecting pegs way in advance, and we slowly pieced together the exact feel and looks that I wanted. The team was personally involved every step of the way, and it was so much fun. It was like getting ready for a party with my girlfriends. As the shoot date neared though, I started worrying about my figure. I had to give myself little pep talks, "I am enough, and there's no better time to do this than now!" The last preparation, right before we started the shoot, was a shot of Jack. That did wonders!
Any advice for ladies thinking about doing a boudoir shoot?
These photos (and the whole experience!) are such beautiful keepsakes, and I think every woman should have her own set. Like I told Tooney and Heather, I'm going to treasure mine for a long time–throughout my 20′s, when I'm married, and when I'm 90 years old, I know I'll look back at these and smile at how young and radiant was. If you don't think you're sexy enough now, you'll probably never feel ready. You are enough, today as you are, and you just need a few girlfriends and a shot or two to bring out your own brand of sexy.

Your favorite moment of the whole experience?
My favorite moment was the first laugh on set. As soon as I started smiling and laughing, I felt myself relax, and Tooney made that easy. I felt like I was back in a quiet space with someone I loved. But really, I enjoyed the entire experience. From the Pinterest peg-hunting, to set design, to the poses, to the photo selection and editing—everything was tastefully and thoughtfully done.

Any thing you want to share about what you wore, where you shopped, etc?
I didn't want to buy too many new things. I was going for a natural, laid back look anyway, so I didn't feel it was necessary. I just wanted to focus to be on me and not on the lingerie.

Just for fun: Define what SEXINESS &/OR BEAUTY means to you.
I think sexiness is totally unique to every girl. It's in the finest details of her personality, and in those intimate moments when she lets her guard down. I don't think you can bring it out with the perfect pose or outfit, I think it naturally shines through when you're around the right people, when you're thinking happy thoughts. These days, I think it's easy for us to feel like we're always one step behind supermodels; like we'll never be pretty enough or skinny enough. But it's all about loving ourselves in our totality, right? Playing up our strengths, and rediscovering our beauty through the right "lens".
Did this experience change the way you see yourself, or the way you think of beauty? Anything else you want to share about your experience?
This experience is especially meaningful to me right now. When I did the shoot I was in a relationship, but when I got the photos, it had ended. It's a funny twist of fate, but what better way to boost your confidence than to see yourself in gorgeous photos, right? Boudoir Le Blanc did a wonderful thing for me. I feel sexy, classy, and empowered! Whatever insecurities or worries I had regarding the shoot are totally gone. Bravo, Boudoir Le Blanc team! When a woman can feel beautiful in her most basic form, in her most vulnerable state, and in her most intimate space–that is truly amazing.
Thank you Dawn and Tooney for sharing these gorgeous images! If you're searching for a boudoir photographer in the Manila area, please contact Boudoir le Blanc. You may also access their website here.
Thank you Boudoir le Blanc for contributing to Boudoir International!